Helping the fight against children's DIPG brain cancer
On April 30th our BTL-UK Sales Supervisor Sam Soames, braved her fear of heights to bungee jump 160ft from a crane. This took place with UK Bungee Club at Coram's Field, Bloomsbury, in the heart of London.
Sam was delighted to raise £800 with gift aid to raise vital funds to help fight against children's DIPG brain cancer. 'Abbie's Army' is a children's DIPG (Diffuse Intrinsic Pontine Glioma) brain tumour research charity, founded in loving memory of Abbie Mifsud.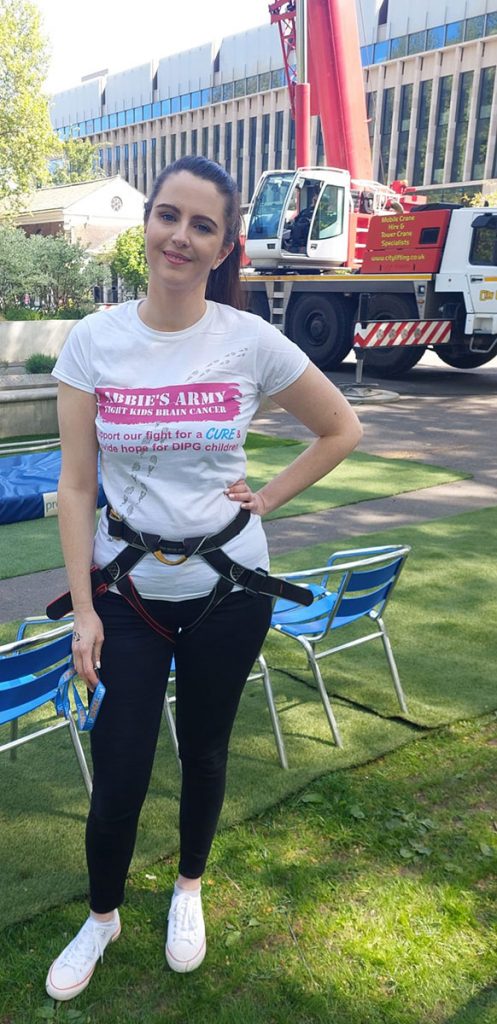 Abbies Army-Their Mission
To Raise awareness and funding for specific DIPG research to help overturn its 'terminal' prognosis and provide a useful resource, practical advice and support for other parents located anywhere in the UK, who receive this horrendous diagnosis for their child.
There are over 120 different known types of brain cancer. DIPG or 'Diffuse Intrinsic Pontine Glioma' is the most fatal of all these brain cancer types. DIPG grows in the PONS area of the brainstem making surgery impossible. Currently there are no approved or validated 'data driven' effective treatments or a CURE available. The average survival time from diagnosis for a child remains at just 9 months.
The current situation facing children with DIPG is UNACCEPTABLE! …and cannot be allowed to continue.
Well done Sam, we're all very proud of you!