Leading High-Quality Oil Seals
Oil Seals Overview
Oil Seals also called rotary shaft seals are widely used to prevent the leakage of a medium (such as oil and grease) along a rotating shaft. It is a mechanical component used to seal in the lubricant, oil and grease being the most common liquid substances found in any power transmission system such as an engine, gear box or electric motor, but also seals all general liquid substances. It isolates the moving parts that need to be lubricated and prevents them from running dry and seizing.
The representative oil seal is the TC oil seal, which is a double-lip oil seal with a self-tightening spring that is completely covered by rubber. Generally speaking, the TC oil seal is commonly known as R23 design.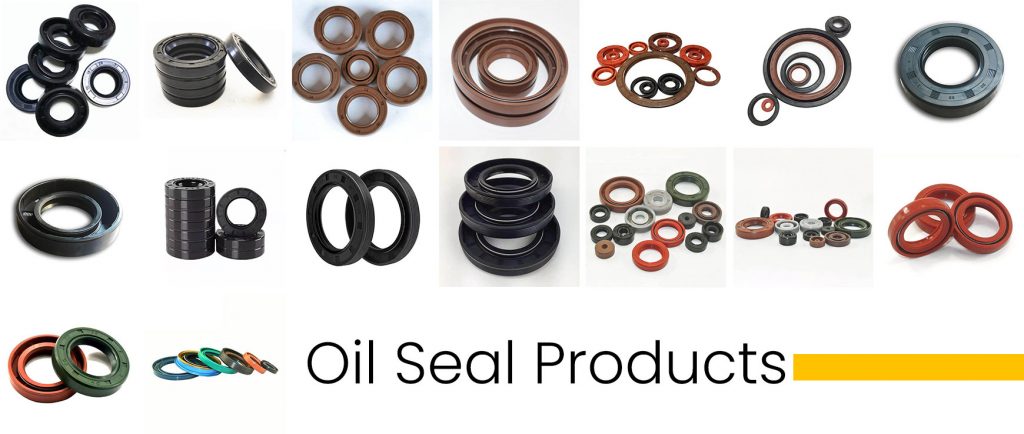 Oil Seal Materials
Common materials for oil seals are NBR/Nitrile, FKM/Viton, silicone, polyurethane and PTFE etc. Nitrile and Viton are the most widely used oil seals due to their ability to operate in a vast range of conditions.
Nitrile rubber (NBR) – It has good heat resistance and wear resistance, and is resistant to various lubricating oils, greases, oil and gas mixtures, etc., and is suitable for temperatures ranging from-30'C to +120'C degrees Celsius, but it cannot be used in applications using phosphate ester hydraulic oils and gear oils containing extreme pressure additives. It is stable in gasoline and low aniline point of mineral oil.
FKM/Viton – Aging resistance, heat resistance, oil resistance, suitable for almost all lubricating oil, fuel oil, gasoline, not easy to harden in oil containing extreme pressure additives, but poor cold resistance, high temperature wear resistance, large permanent compression deformation, suitable for use at temperature ranges between -20'C to +250'C degrees Celsius.
Silicone – Has outstanding high and low-temperature resistance, and can be used for a long periods of time at +150'C degrees Celsius without performance changes; it can also be used continuously for 10,000 hours at 200'C degrees Celsius and can maintain its unique elasticity and ozone resistance in working temperature ranges of -70'C to +260'C degrees Celsius.
PTFE – It has outstanding chemical stability, thermal stability, friction reduction, and self-lubrication, and its high temperature range of up to 400'C. Therefore, it can work normally in temperature ranges of -200'C to +300'C degrees Celsius. In addition to free fluorine and alkali metals, it has excellent corrosion resistance to chemicals, solvents, hydroxide compounds, and acids.
Oil Seal Types
There are many types of oil seals, TC Oil Seals manufactures and stocks the most commonly used being R23 in NBR/Nitrile and FKM/Viton s shown in the picture below.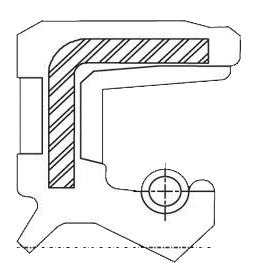 Oil Seal Sizes
An oil seal has three dimensions, the ID (inside diameter), the OD (outside diameter), and W (width). Normally, a standard oil seal size will be given, ID 20 x OD 30 x W 7 mm, these dimension are moulded into the body of all TC Oil Seals. Therefore part numbers are easy to follow, OSM (Oil seal metric) OSM-20x30x7-R23-NBR for example.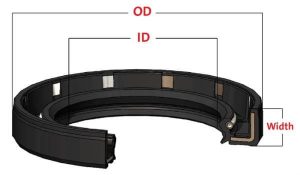 Oil Seal Hardness
The hardness of an Oil Seals can be easily measured by a Shore scale durometer. Generally, the hardness of the oil seal is defined by the rubber materials themselves. We normally produce NBR/Nitrile oil seals with a shore hardness of 70 and FKM/Viton oil seals with a shore hardness.
Oil Seal Colours
We can manufacture oil seals in various colours for customers and customers need to the standard Pantone colour number. However, considering cost and easy identification, it is generally recommended to choose classified material colour oil seals, like black for NBR/Nitrile oil seals, brown for FKM/Viton oil seals, special colour requests will incur additional cost and larger minimum order quantities.